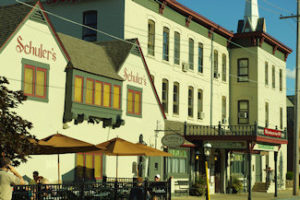 From National House Inn, walk a few blocks for lunch or dinner in the unique, historic setting of Schuler's Restaurant and Pub in downtown Marshall, Michigan. Schuler's Restaurant offers fine dining and a pub offering memorable atmosphere, now for more than 100 years! Folks travel for miles and miles to visit for this famous dining tradition.
While you dine, enjoy murals of 19th Century Marshall decorated in beamed, timber and plaster. Bits of wisdom from pundits ranging from Shakespeare to Mark Twain are lettered in Old English script around the beams
.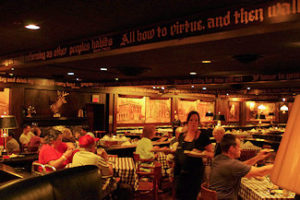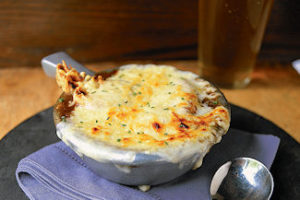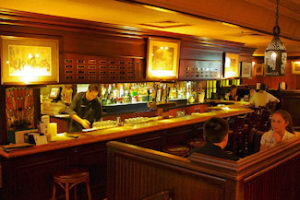 Signature dishes include slow-roasted prime rib of beef, Great Lakes whitefish, Swiss onion soup, pub burger, and hot fudge coconut snowball. Signature drinks include Centennial Cosmopolitan, Winston Warmer, Mudslide, Bloody Mary and Schuler's Ale.
Enjoy a loaf of artisanal bread and other house-made baked goods, cookies, crackers, or Heritage Cheese. Dine 'al fresco' on Schuler's Patio. Come into Winston's Pub for one of their specialty ice cream drinks!
Schuler's Restaurant and Pub is located at 115 South Eagle Street in historic Marshall, Michigan, and is open every day except Christmas.
The Perfect Package at National House Inn 
Our favorite package includes one night's bed and breakfast lodging, dinner for two at Schuler's Restaurant and a tour of The Honolulu House Museum located next to our Inn.
Available 7 nights a week, $245
(not including Ketchum, Pratt, or Pierce Suites)